Last term, the school had their very own Olympics. Everyone enjoyed it.
Thanks to some of the kids from room 18 for making the event happen. They made it fun and included everyone.
We were put into teams and represented a country. Then we all went to a different station and played as well as we could.
How the event works:
We all got put into teams and represented a country.
There were judges from room 18 that would give each team a score out of ten then the team with the most points would either be placed first, second or third.
We would go to a station and play the game until one of the teachers rang the siren and told us to move to a different station.
And last but not least, of course we had to listen to the leaders.
Some of the games that were played were:
Island tag
ball relays
relays
army hospital
Rob the nest
superheroes
playground race
paper scissors rock
road block/line tag
Then at the end of the event the lucky winners were announced. First was Spain, second was Mexico and third was Germany. Great job to all the people that were in one of those teams.
Here is some questions about the event:
Who hosted the event?
What country's were the lucky winners?
When did the event happen?
There was great success that came out of the day. The schools hopes this will happen again.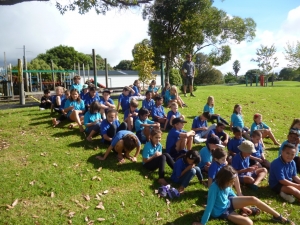 The school is sitting down while the teachers and some room 18 students explain how the event will work.