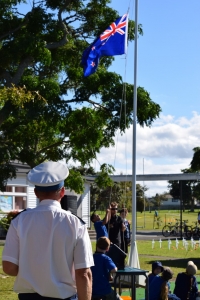 At the end of term 1, there was an ANZAC assembly that was held at Onerahi Primary School.
Onerahi School celebrates this because they want to respect the people who fought in war for New Zealand. 
There were three men who had once experienced war. They got up and spoke about what it was like.
 Kapa Haka had their turn, and they performed amazingly.
 Parents, caregivers, friends and family came and supported the men who told us about war, and they came to be part of our special assembly. 
Matt Watson, who was dressed smartly in his uniform, played the 'reveille' and 'the last post' on the bugle wonderfully! 
Some classes placed poppies by some crosses that had been put out by room 19, 20 and 21. The crosses marked the place of some brave soldiers. 
A poem called 'In Flanders Fields' was beautifully read out by Louie and Lauren.
A room 20 student Elise said "It was really nice listening to the men who spoke about their time in war. I thought it was really emotional and it brought me back memories" Renee who was also from room 20, said "It was a good opportunity for kids who don't really know about ANZAC, to then get to know about it and it was fun to hear stories coming from a real soldier who represented our country New Zealand."
Here are some pictures of the crosses.