O.P.S butterfly garden
The students at Onerahi Primary School have created a butterfly garden. It's a place for caterpillars to go to and make chrysalises which then turn into butterflies.
The butterflies are useful to the butterfly garden by pollinating flowers for the bees and making the butterfly garden a happy place.
The school students also care for the butterfly garden by pulling weeds and watering plants – this teaches them how to care for their environment.
Room 21 student Cole says "I like how the students at the school get the opportunity to plant crops and vegetables , because it's nice for the children to learn how to grow their own food – that way the world will be sustainable".
Directions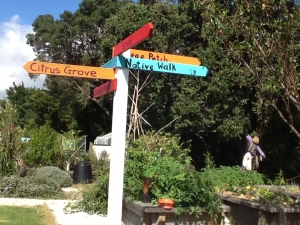 Vegetable gardens                                                                                                       Potato patch